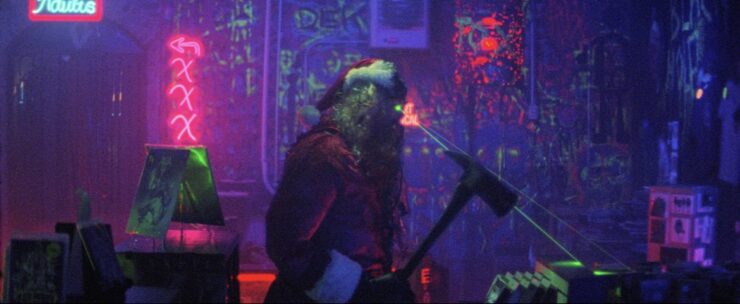 [Seen as part of The Brooklyn Horror Film Festival]

Fuck!
This film fucks!
It fucks so hard and so heavy and doesn't stop fucking.
A 16mm neon nightmare, featuring a robotic killer Santa with Terminator determination.
My first time seeing a Joe Begos films, and to say he's won me over is an understatement.
Incredible performances from Riley Dandy and Sam Delich the whole way through. We want to spend time with our protagonists from the moment we meet them and their banter never ceases to be fun and heartfelt, a truly difficult to achieve level of chemistry.
Joe's flow and pace through the whole film are spectacular, no part drags. Shot composition, and camera movement are painterly and give enough attention to all the fun details but never allow for the lush visual landscapes to overwhelm. Accompanied by a brutal metal soundtrack, one can't help but lightly head bang through the whole screening. I vibed.
After the screening I mentioned to Joe I couldn't help but feel like he was a painter, or that perhaps he had made music videos in the past. He responded with, those were things he would have loved to do, but never had enough time so he put it all into his films.
I absolutely loved this, and can't wait for the holidays so Christmas Bloody Christmas can be on heavy rotation in my home.